Don't forget to go enter my giveaway to win a free month of BarkBox for your pup!!
Enter here
!!
Linking up with
Ashley
and
Neely
for Sunday Social. This week's theme is
flashback
- which happens to be one of my favorite themes EVER.
Sometimes, I wish I could go back in time and just observe myself as a child/teen. I would laugh
all the time.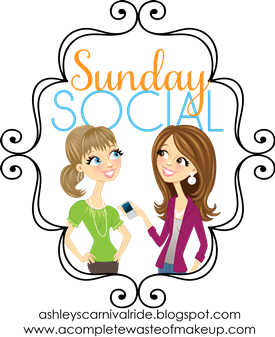 1. What was your first car?
I had a 1984 Mercedes 190E that we bought from a family friend. It was like a little box.
This picture is from the first day I drove my car to school after getting my license. My dad still has this picture on his desk... in a leopard-print frame that says "Princess" I love my dad.
2. Who was your favorite childhood teacher?
I loved school (
obviously, since I'm a teacher now
), so I loved most of my childhood teachers. I especially liked my first-grade, third-grade, and fourth-grade teachers. First and third grade were both really sweet ladies, and fourth grade was a very sarcastic man, and for some reason I just loved that! Pretty much all of my middle school and high school teachers were great, too.
3. Were you involved in any sports/extracurricular activities? Share pictures if you can!
I was involved in drama and dance most of my childhood - I was always in plays.
Practicing and performing my role as

a to

y soldier in "Babes in Toyland"
When I got into high school, I gave up on drama (
I realized I was not a good singer OR actor
) and focused only on dance. I was on the dance team at school and also on the competition team at my dance studio.
I'm in the front row on the left, if you couldn't tell.
I also ran track for a little bit in high school - I did long jump and triple jump. I didn't continue with it, though, and I wish I had - but track practice interfered with dance class.
4. What was your favorite birthday party?
There was a place near my house called "Kids & Paint" and for some reason I was really into going there and painting masks. I collected them. Anyway, I had a birthday party there one year - I think it was my 10th birthday - and it was a lot of fun.
5. Who was your teen celebrity crush?
Oh, there were so many! I was pretty boy-crazy. To name a few: Jonathan Taylor Thomas (JTT!), Taylor Hanson, Devon Sawa, Eric von Detten, Paul Walker, Brian from the Backstreet Boys... basically, if he was cute, I had a celebrity crush on him.
6. What show/movie did your parents not allow you to watch?
My sister and I were not allowed to watch
The Simpsons
because one night while we were eating dinner, my sister - who was probably 4 or 5 at the time - sang the "Duff Beer" song while swinging her glass of milk around. It was no more Simpsons from then on. Fast forward to today - 20 years later - if I'm flipping through the channels and I see it, I'll never stop, because my first thought is that I'm not allowed to watch it. So, the only episode I've ever seen is the one with the Duff Beer song that got us in trouble.